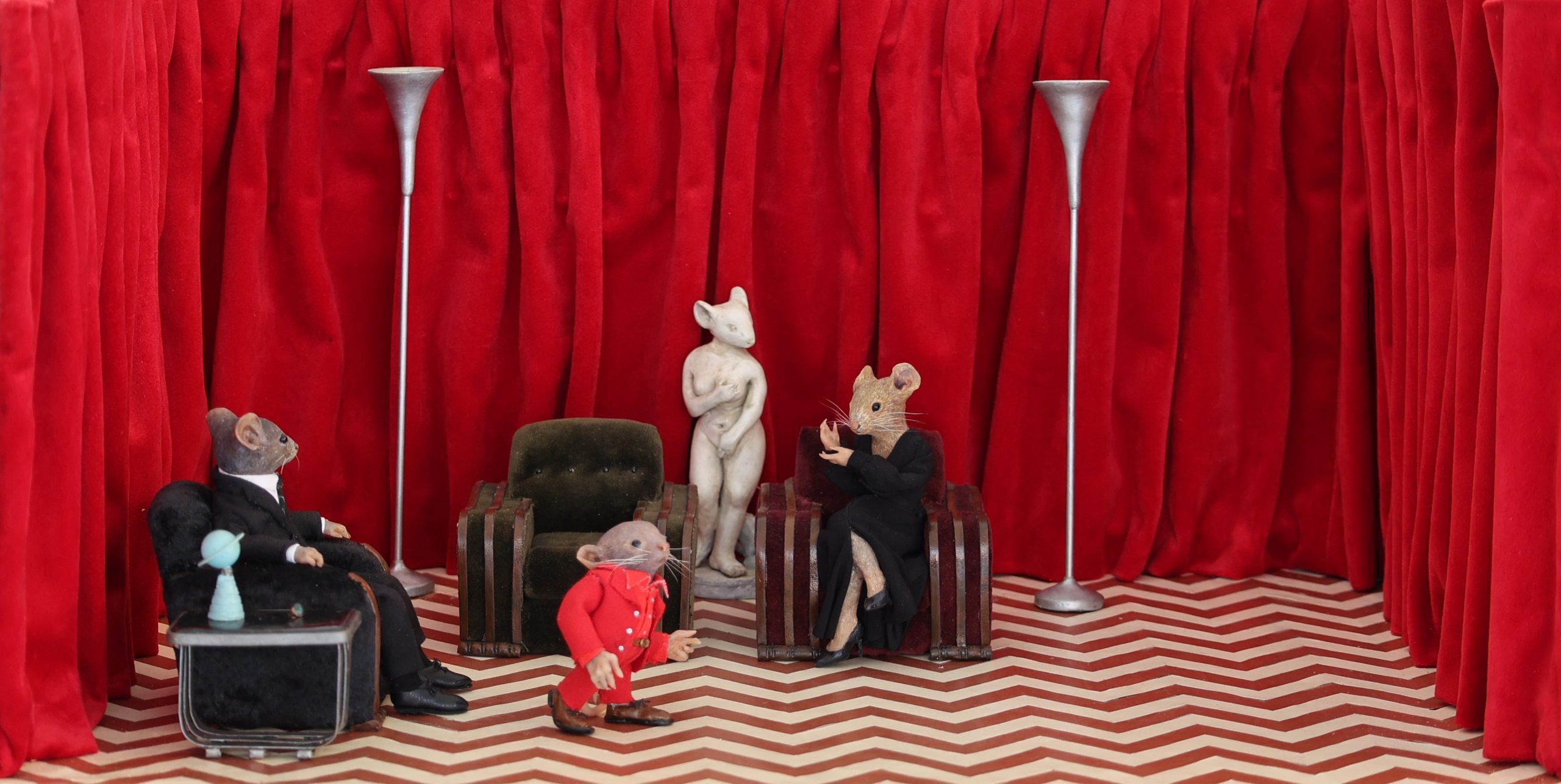 Where We're From, the Birds Sing a Pretty Song and There's Always Music in the Air
Twin Peaks

I have never watched any form of cinematography that became a part of my soul like Twin Peaks. Twin Peaks is like dreaming while you are awake.
The diorama is a miniature replica of one of the scenes taking place in The Black Lodge.
Where We're From The Birds Sing a Pretty Song was completed in 2020.
The Mouse From Another Place
I gave him big hands, and long arms. I tried to capture the movements of the characters' dance in one frozen pose.
Laura Palmer
I wanted to make her very beautiful and feminine, giving an extra touch to her eyes, and a yellowish tone, to indicate her blonde hair in the series. For a while I was even considering making her a wig, long blond hair.
Venus de Medici

The Venus de'Medici, or Medici Venus, is a Hellenistic marble sculpture depicting the Greek goddess of love, Aphrodite. It is one of the few props in the Red Room, and I wanted to find a look for it that worked in this universe.  I tried a few different versions, before landing on this one with a mouse head and a human body.  I sculpted it in polymer clay, painted it, then stained, polished, added an egg oil temoera mix and polished again, to get a marble-like look.
The Chairs
The room needed no less than three big chairs. I made the base from Polymer clay, and covered them with velvet.
Making the floor
I had a hard time finding the perfect colored cardboard here in Oslo. Stopping by a small art-shop when I was in Venice, Italy, was my lucky day, they had what I was looking for.
The Table
When nothing else works, I can always sculpt anything. But. For the metal rig on the table, sculpting did not work. I couldn't make it thin enough to really look like metal. So by accident, I found the perfect dimension metal string inside a handbag, that was slightly bendable if I used a tool. So I could bend it until it looked right.