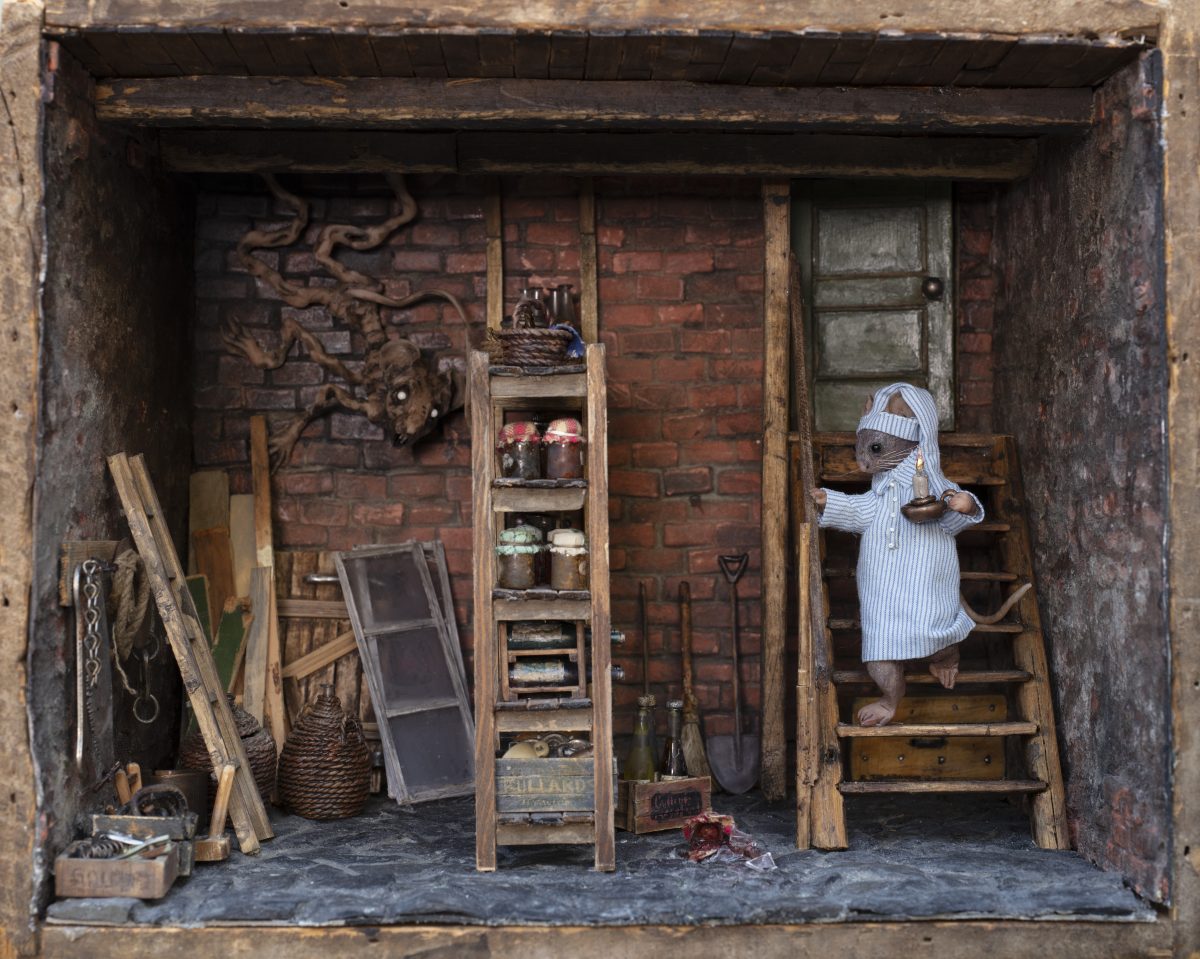 ' tis the Wind and Nothing More
A demon is a supernatural and often malevolent being prevalent in religion, occultism, literature, fiction, mythologi and folklore.
Wikipedia
How it all started.

I sculpted the Demon back in 2016.  I wanted to build something special for him, but wasn't sure exactly what. I let this creature rest for a while, and the vision slowly appeared  in my mind.
'tis The Wind And Nothing More was completed in 2018.
Finding the right wooden box is essential.  I prefer that they are old and used, with a history.
For this diorama, I needed one that was deep enough so I could build a staircase.
I found the perfect one in Texas.
The basement
Brick walls made from Polymer clay.
Ceiling built from vintage wood.
Floor made from small slate stones, gathered at Gressholmen island, Oslo.
Creating the other character
Miniature tools
Bits and pieces found in my grandfathers drawers make great tools. The wooden boxes I made out of his old cigar boxes..
Fun fact: I recreated the box this diorama is built into.
The staircase
This was the point when I realized my woodwork skills had improved.

Filling up the shelves
I built the shelves from old pieces of wood, then filled them up with the things I created.
Some things are sculpted, some are built from wood, some are made from little bits and broken pieces of old stuff.
I bought little bottles and glass jars online, then filled them with water that I colored with ink to look like lemonade and wine, and glass pearls were used as fruit and berries in  jam. I then made labels and lids.
It was important that everything in this basement looked really stained. For this I used a variety of products, like Dirtyworks' powders..
The Raven – Edgar Allan Poe