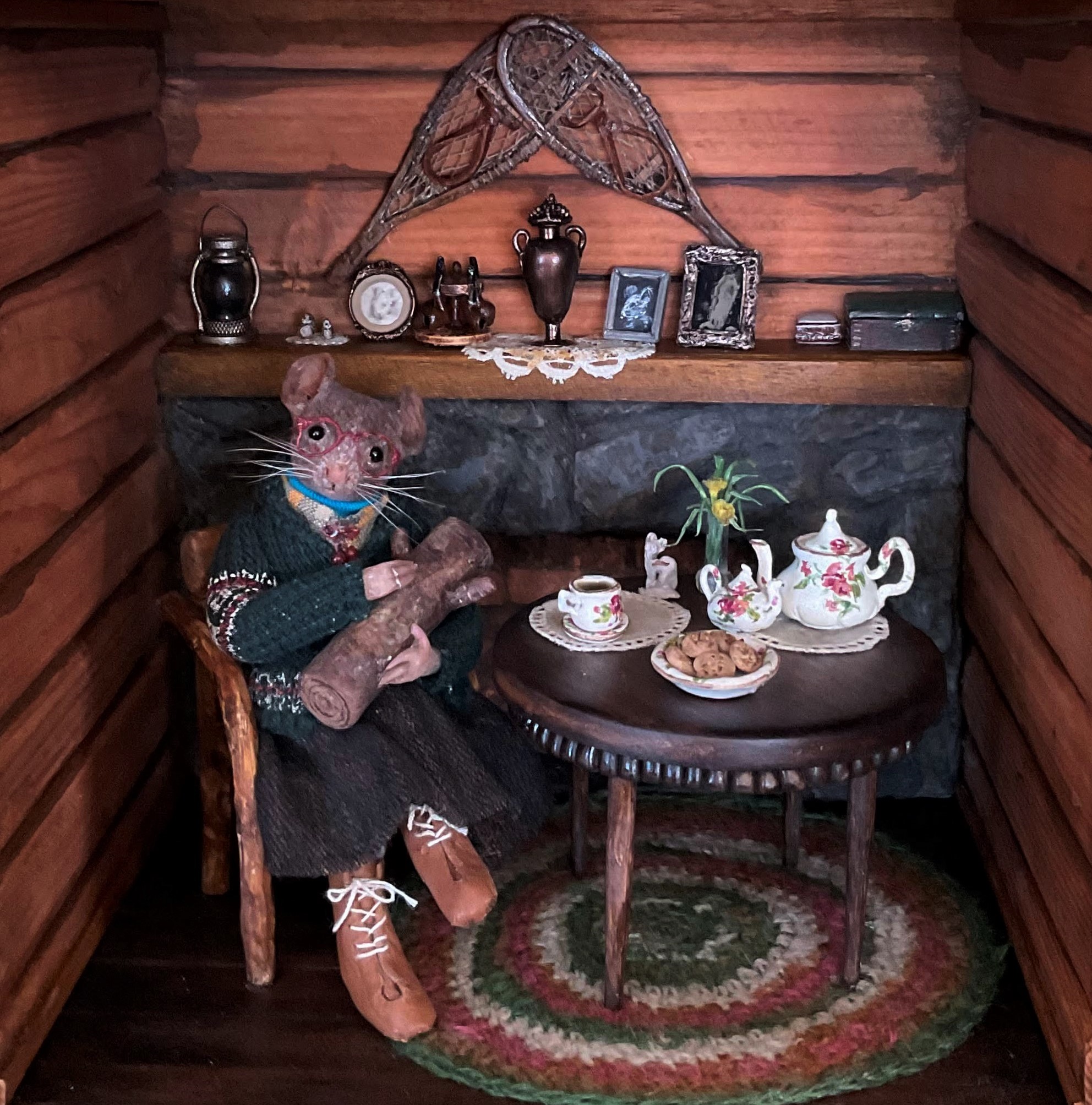 One Day The Sadness Will End
The Log Lady is a character in the television series Twin Peaks.
Most residents in the town regard her as crazy. This is mainly due to her habit of always carrying a small log in her arms, with which she seems to share a psychic connection, often dispensing advice and visions of clairvoyance which she claims come from the log.
Wikipedia
The characters in David Lynch's universe are so intriguing, the settings they are in feel so familiar, like somewhere I know, or have been.
My second scene in this ongoing Lynch side-project, is a miniature version of The Log Lady. One Day The Sadness Will End was completed in 2021.
Building the interiors
This room needed to have some solid timber walls. I carved wooden sticks to give them the rounded shape, and stained them in a warm tone.
Building a fireplace from slate stones and handmade bricks.
The Snowshoes
A pair of vintage snowshoes hangs on the wall of the Log-Lady. I made them from wire and polymer clay, the some wood for the crossover parts. For the threads, I decided to use a vintage glove as a starting point. After attaching it, I hand-stiched the sides and a few other places to give them the right snowshoe-look.
The Lady and The Log

The title that I chose for the diorama really inspired me. "One Day The Sadness Will End…." (A quote by Margaret Lanterman, Twin Peaks). I had this sentence in my mind while sculpting and painting her head, deciding on her position. That was the mood I wanted to catch.
The Outfit
The Log Lady's signature look is a big knitted cardigan sweater of some kind.
Because of the interior, I decided to go for her green one, it worked well as a complimentary colour to all the wood around her. She always wears  a lot of layers, so I made a turtleneck and a checked shirt as well.
I tried many different things before I could get the skirt right. The end result is made from a vintage striped suit I found in a thrift store.
Her cherry broche is a combo of sculpting and glass pearls.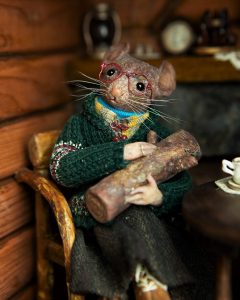 The Details
I made a pipe-holder, a trophy, little owl-sculptures, a lantern….
I use polymer clay ¨, but also wood, pieces of metal, buttons, etc.
I drew a few  portraits of her relatives.

To make the very fine laced table-cloths, I tried crocheting them at first, but went for the solution of cutting out small pieces of lace, and combining them.
In this diorama, there is an original miniature collodion wetplate, of my death scene.
You'll find a wetplate photograph of one of my other characters in several of my dioramas.
It links the different scenes together, make them all part of the same world, even if the settings are totally different.
Sugar Coocies and Coffee
Sculpting all the things on the table, and painting it in acrylic paint.
The coffee in her cup is Crystal Resin with a few drops of brown colour mixed into it.
"My Husband Was a Logging Man"
To give this small room a very specific atmosphere, and to tell as much I could about this character in a limited space, I chose to carve a rustic log armchair for her.
I made her a rug from leftover yearn after my grandmother, that she used for making Østerdals-bunader; (Norwegian National costumes).