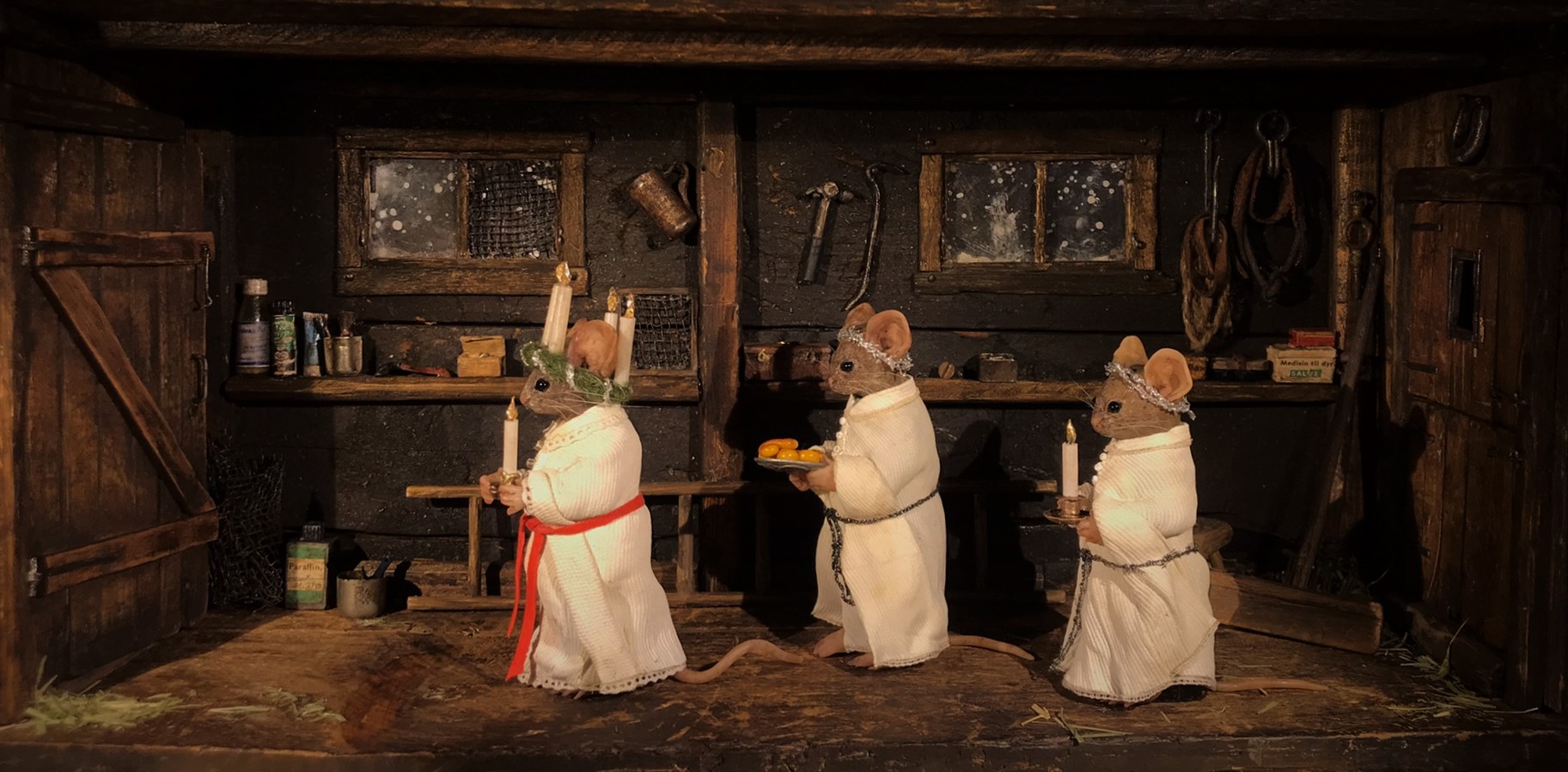 Lussi Langnatt – The Most Dangerous Night of the Year
Santa Lucia/Saint Lucy
Saint Lucia of Syracuse was a woman born in the 280s in Sicily, Italy. There are several legends surrounding the story of what happened to her. What is certain is that she was martyred on December 13th in 304 AD. She was declared Saint after her death. She became patreon saint of the blind, as she had her eyes gouged out.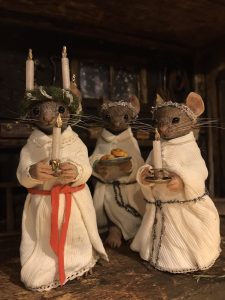 The Lucia celebration as we know it here in Scandinavia, started in Sweden in 1927, and eventually spread to the other countries.  A young girl dressed in a white robe wears a crown of evergreen wreath studded with candles, and children carry St. Lucia buns and candles in procession singing traditional Lucia-songs. The Lucia day marks the beginning of the Christmas celebration. It is meant to bring hope and light during the darkest time of the year.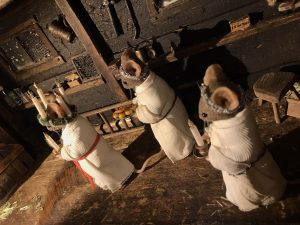 We have called the night between the 12th and 13th of December Lussi Langnatt because, according to the old Julian calendar, it was the longest night of the year, i.e. the winter solstice. According to old folklore, all kinds of evil forces were unleashed on this night, as light and dark fought for power.
The dangerous Lussi, an underground witch, vette or demon, was out. Her mission was to make sure the housework was on schedule for the Christmas celebration. When she discovered that things were not as they were supposed to be, she became enraged and could destroy the chimney.
No one was supposed to be outside under the open sky on Lussi Night.
It was the most dangerous night of the year.
Lussi Night was the only night of the year that the animals could talk with eachother, so I wanted the three Lucias to be inside a stable/barn.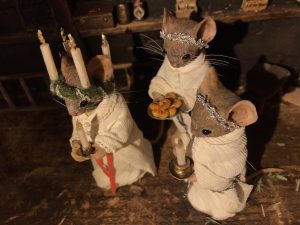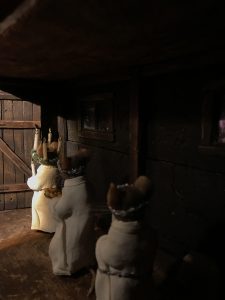 Lussekatter "Lussicats" is the traditional wheat pastry with saffron. The buns are shaped as a sun, and the yellow color is supposed to symbolize the sun and the light.
In my childhood, me an my siblings would dress up in Lucia outfits, all lights in the house were turned off, and we would walk into the livingroom carrying candles, and freshly baked lussekatter for our parents. With our long and dark winters, this was a night we looked forward to.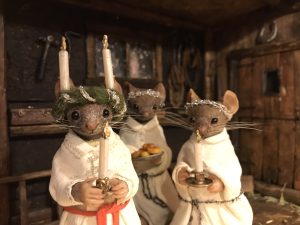 From my collection of vintage boxes and magazines, I always find the elements I need to create miniatures.
I used quite a lot of scrap metal for this scene. Breaking, sawing, cutting of details and elements and using them as a base for something new.